News & Events
Fundraising Music Concert
---
Sunday 23rd June at 7pm at All Saints' Church, Northampton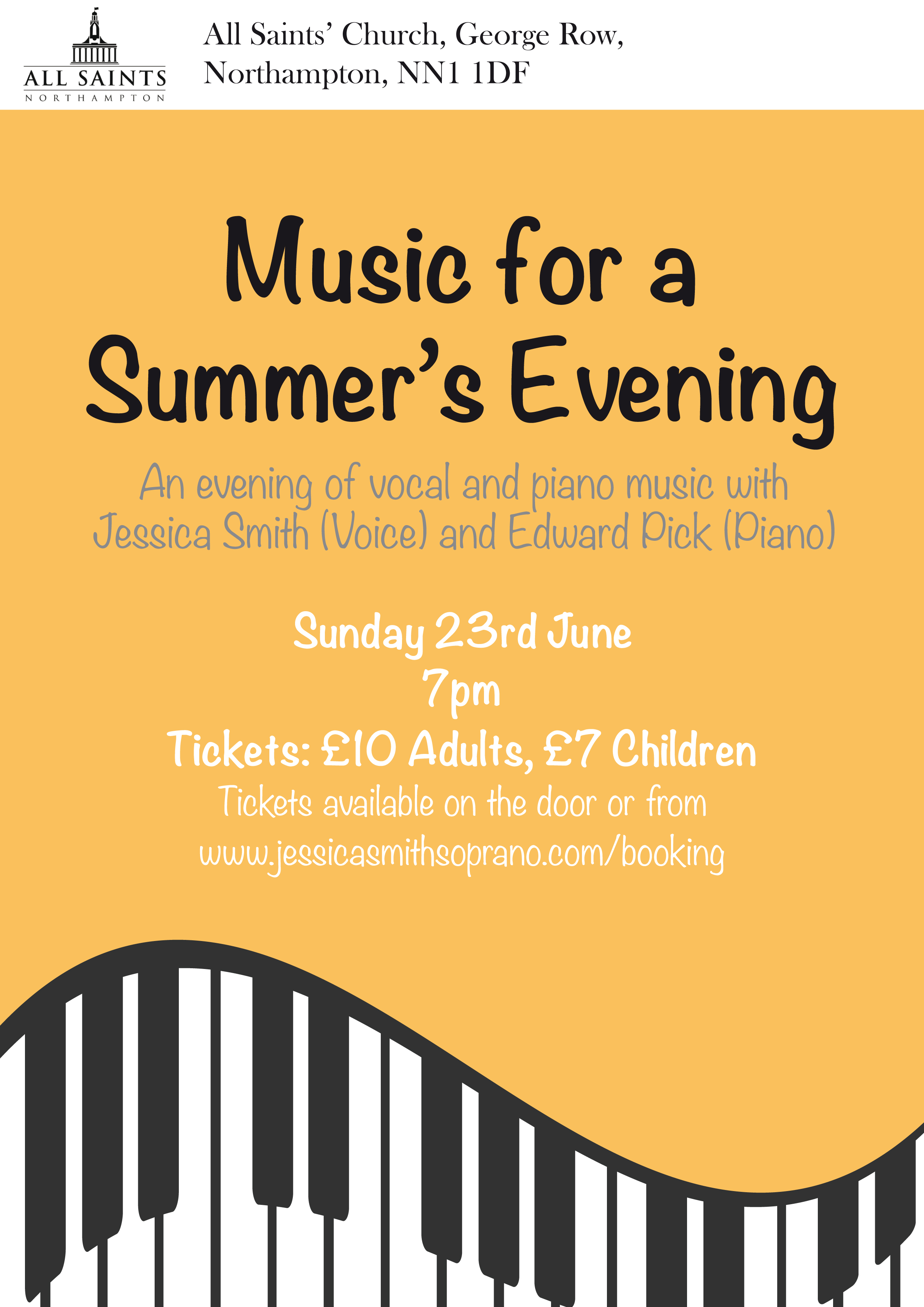 I am leaving Greens Norton Choir at the end of this academic year to pursue a Masters degree at the Guildhall School of Music and Drama in London, ranked as the UK's No.1 Conservatoire for Music in the 19-20 University League Tables. The prospect of this is fantastically exciting as it will allow me to train with esteemed teachers, and to sing in operas, solo pieces and consort ensembles. My specific focus is early music (baroque/early classical) which means that lots of my work will involve working with lutenists, harpsichords, and period instruments.
However, the only sticking point with this is the financial cost. The government provide a postgraduate loan of around £11,000 to cover tuition/living expenses for postgraduate students, however the tuition fees alone are over £20,000. In addition to this, I am factoring in rent in London (approximately £650pcm for a room) plus bills, food, and travel costs. In total, I have anticipated that my costs for the two years of study will be over £45,000. I have worked hard to save a substantial amount of money towards the costs, plus anticipated work in London, and I have been successful in securing £350 of funding from trusts so far (but most only support students under the age of 25, and I am 27). This leaves me currently in around £15,000 of deficit.
With this in mind, I have decided to host a Fundraiser Recital for my postgraduate studies on Sunday 23rd June at 7pm at All Saints' Church, Northampton. I will be singing a selection of music including, Mozart Alleluia, Bach Ave Maria, and my lovely friend Ed Pick has agreed to accompany me and play in the concert. He currently lectures at the Royal College of Music, London, and is an esteemed pianist (http://www.edwardpick.com) living in Northamptonshire.
The cost for tickets is £10 for adults. The entire ticket proceeds will go towards my university studies - Ed is giving his time for free and the church are kindly allowing me to use the space free too.
If you are unable to attend the concert, but felt you would like to donate money towards my appeal then I am hosting a 'Crowdfunder' online. Here you can read more about my musical journey, donate, and keep up to date with my fundraising quest. The website link is here: https://www.crowdfunder.co.uk/jess-masters-funding-
Jessica Smith
Musician, Teacher, Musical Director