News & Events
The "Big Draw" Festival
---
Wednesday 25th October 2017, 11am - 4pm
Stoke Bruerne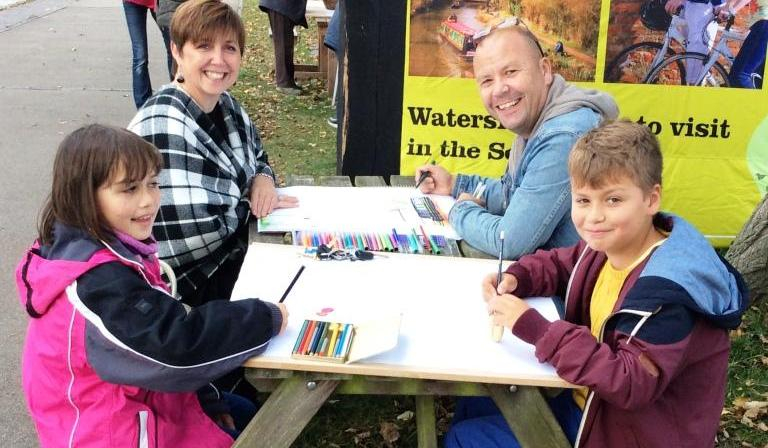 One of the activity workshops in the world's largest drawing festival 'The Big Draw' is being held alongside the Canal Museum on the tranquil Grand Union Canal in Northamptonshire. The workshop will be held for a whole day on Wednesday 25th October, during the half-term holidays. 'The Big Draw' festival forms part of a global community celebrating the universal language of drawing, with thousands of drawing activities connecting people of all ages with schools, galleries, museums, libraries, heritage sites, village halls and outdoor spaces with artists, scientists, designers, illustrators, inventors and each other.

The free event, organised by the Stoke Bruerne Canal Partnership, along with Partnership member the Canal & River Trust, (the charity that cares for 2,000 miles of canals and rivers in England & Wales, and which owns and operates the Museum), is an opportunity for all budding artists, random scribblers and wannabe Picassos to come and take part in a free drawing workshop. But rest assured, you don't need to be artistic to enjoy the fun!
The theme for this year's Big Draw workshop is Living Lines, and with lots of inspiration everywhere you look along the waterways, the canals should provide plenty of creative ideas.

Helen Westlake, Chairman of the Stoke Bruerne Canal Partnership said: "We're looking forward once again to being part of the national 'Big Draw' festival, the fourth year we have participated in what has proved to be a very popular day out. The waterside setting at Stoke Bruerne is always inspirational and anyone and everyone is welcome to drop in and enjoy the pleasure of being creative, at whatever level they wish. Excuses such as 'I can't draw!' and "this is only for children" are not accepted!"

Stephanie Furniss, Duty Manager at the Canal Museum, said: "Canals and rivers have always been a big attraction for artists, from Constable and Canaletto to the countless professional and amateur artists who are still drawn down to the waterside today. We provide lots of help and ideas and all the materials you could need. There will even be a few prizes!"

The workshop will run from 11am – 4pm and is open to all ages and abilities. Just turn up for as long and whenever you like and find us in a marquee on the Green beside the Canal Museum. All you need to bring is your imagination. Car parking charges apply.