News & Events
NAB - Mobile Sight Centre
---
BRACKLEY Town Centre. Piazza outside Town Hall Wednesday 2nd May 2018 10.00am–12.30pm
TOWCESTER, Waitrose Car Park, Water Lane Wednesday 2nd May 2018 1.30pm - 3.30pm
Please note: In adverse weather conditions the Mobile Sight Centre may not be at the advertised location. To check on the day, please call our Helpline on: 01604 719193.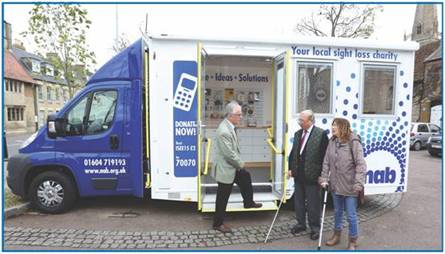 Visit our Mobile Sight Centre for advice, information and support on sight loss issues.
Our Information Officer Fred Cannon will be delighted to welcome you on board our specially adapted vehicle, which displays and stocks a vast range of specialist aids and equipment designed to make life a little easier for blind and partially people.
There is everything from talking watches and clocks, big button telephones and mobile phones to large print diaries, writing aids and electronic magnifiers. We also have a number of booklets and information leaflets on eye conditions, equipment and services available.
No need to book an appointment, just drop-in and see Fred during his visit to your area. For further information on Northamption shire Association for the Blind please visit http://www.nab.org.uk/